Welcome to our website!
TO KNOW GOD'S LOVE
TO SHOW GOD'S LOVE
TO SHARE GOD'S LOVE
CORONA VIRUS UPDATE
Some of the Circuit Churches are now beginning to open, for details of planned services
click the link: Services April / May 2021 including Holy Week and Easter
Zoom Worship is currently being offered by Gillingham, Tisbury,
Yeovil and Cheap Street & Wincanton Methodist Churches click Here for details
Scroll down to view the Prayer offered by Revd Dr Barbara Glasson
The Methodist Church is committed to promoting a culture of inclusion across the Connexion.
The Yeovil and Blackmore Vale Circuit believes that Black lives matter.
'From one man he made all the nations, that they should inhabit the whole earth.' Acts 17:26
We refer you to the Personal Statement of Revd Dr Barbara Glasson, President of the Methodist Conference (2019/2020): Here
and the Statement on Racism by Revd Dr Jonathan Hustler, Secretary of the Conference: Here
A Prayer: (From the London District of the Methodist Church)
God of the persecuted and the bereaved,
Pour Your love upon Your sorrowing servants.
In the sickening and devastating acts of human intent,
Pour out your power we pray,
that we may be given hope
and an assurance of Your presence in these tumultuous times.
Open your hand of grace dear God to all the people of the USA
Enable them to find common ground, to yield to justice and to find peace.
Empower them to have compassion through the presence of your Holy Spirit.
Forgive our failing hearts as we allow these tragic events to overtake us,
Forgive our anger as we allow senseless killings to control us
And forgive our fearfulness in remaining silent and doing nothing.
Give us O Lord a glimpse of a hopeful future,
through the presence and life affirming power of Jesus Christ our Lord,
Who reigns with You in the power of the Holy Spirit, now and always. Amen.
May justice, peace and love be a symbol of our unstinting solidarity.
Prayer offered by Revd Dr Barbara Glasson, President of the Methodist Conference (2019/2020), this and other prayers to use during this pandemic can be found at: https://www.methodist.org.uk/about-us/coronavirus/prayers-during-the-coronavirus-pandemic/#loving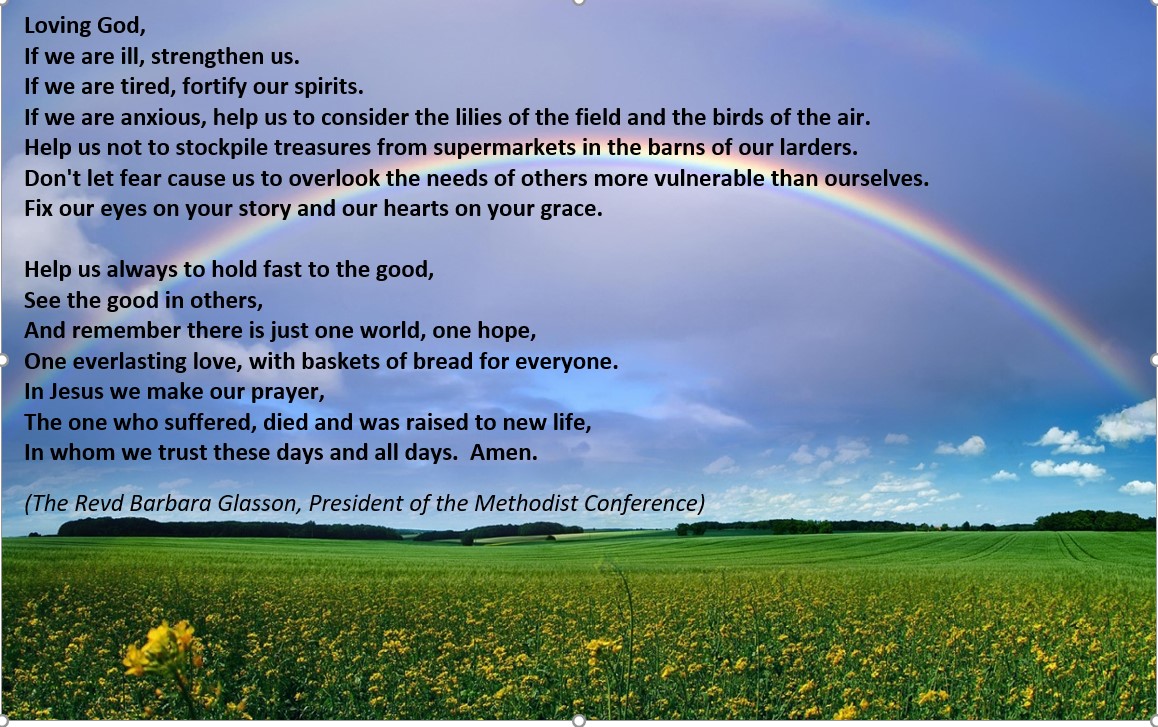 We hope you will find this site informative and easy to use.
We belong to the Methodist Church in Britain, which is itself part of the worldwide family of Methodist churches. We also have links with the United Reformed Church.
Methodist churches in Britain are grouped into 36 Districts and each District is divided into geographical areas, called Circuits, for mutual help and support, for example, by sharing preachers and other resources. We are in the Southampton District which comprises 14 circuits. Our circuit is called Yeovil and Blackmore Vale and covers an area in the counties of Somerset, Dorset and Wiltshire. It has 18 churches: Ashmore, Bell Street United Church in Shaftesbury, Broad Oak, Cheap Street Church in Sherborne, Gillingham, Hazelbury Bryan, Ibberton, Kings Stag, Longburton, Marnhull, Motcombe, Preston Road in Yeovil, St Mark's in Yeovil, Sturminster Newton, Tisbury, Vicarage Street in Yeovil, Wincanton, and Yetminster. Two of these churches are part of ecumenical partnerships: Bell Street United Church in Shaftesbury (with the United Reformed Church) and Cheap Street Church in Sherborne (with the United Reformed Church)
The Yeovil and Blackmore Vale Methodist Circuit encompasses South Somerset, the heart of the Blackmore Vale in Dorset and a small part of south west Wiltshire. From the industries in Yeovil with Westland Helicopters and the literary history of Thomas Hardy and William Barnes, the area is very much agricultural, with rolling hills linking the chapels and churches together. We serve a wide variety of communities across this area, ranging from secluded villages to busy town centres.
Our churches range from small village chapels to larger town centre churches, but you can be sure of receiving a warm welcome wherever you go!

You can access more information about each church by clicking on 'our churches'
Please also have a look at our calendar which shows all the events and activities happening throughout our circuit.
We hope you enjoy browsing this site.
If you need any more information, please see contact details